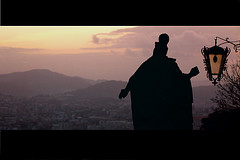 (flickr)
One Man's Grace
The rain came, in one foggy Sunday morning,
As I a stud up, beyond my brown eyes,
A new era had begun.
I knew the blizzard highroad that I had run.
The past slipped me all the way down,
But the grace you gave me never led to the end.
I believed that every man has his own story,
His own greatness….
So tried never to drown in a river of tears.
And never lose way…
Soon my present had your presence.
I returned to begin the unfinished and swallow the grief.
One blank book to write,
Another poem to delight…