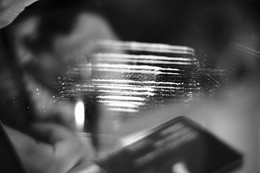 (flicker)
White
Hearing a guitar playing in the background,
As Cohen's song dwells thru my mind.
The glorious journey beyond the self sightlessness gained nothing.
Below the silence of the night,
There was no excuse in what I did.
Breathed deeply the infinite jail,
My cold turkey still hanged high.
My own forgotten talent yearning entrance,
Like holy innuendos…
The stages weren't full, And my voice mute.
There was no time for a lion's heart,
The road killed him, and our own future to.
Dead and alone, I waste time.
As I See the devil rubbing his hands,
Didn't know my problems with god,
Till it all began to happen.
Lost friends, family and music.
As I take this last trip on the white lane,
My victories end now.
Take me far into the true ''arcobaleno'',
Here I go on my own....
Let all colors shine,
Let it all get behind….