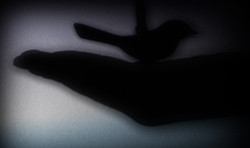 Bleeding Bits
Could never know the roads I've been wondering,
Since the morning I rose out my of cradle.
Lost myself for hours filling my extended roots
Only by watching the city rise…
I felt beloved…
Even when I was followed by shadows, bashed our swallowed…
My name flew around and minor days just didn't matter.
I'm not a person of soft phrases or elegant and poetic matches,
Mostly I scour the same shoreline…
Taught myself to love the flesh of words...
Because your part of the bigger worth,
Blessed by blood, but drawn in sorrow
Eager to escape but guarded by false prophets,
Powered by the faith of the same paper…
I grant myself the dream of bleeding out all emotion.
Just to unfold a cold image of the one that doesn't gain...
A heavy loath is my shell.
All in All everything that I oppress is wild fires that deem a sane viral soul…