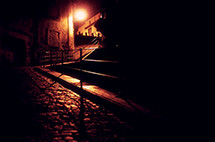 Broken Boundaries
Cold morning dices trough my veins
Brought myself late last night
Carried the load to many times...that now gods do
Backstabbed ranger on a road to destruction…
Eager to find the book of all realms…
Vicious to the bone and filthy like a scoundrel… let it be me.
Been blessed by the bold night,
Even blinded by the sound of the morning glow.
Yearning to bottle and left it all behind.
Took it all with nothing to judge
Backfired the vengeance and forgot havens of lost dreams…
Remember, remember our last November??
We couldn't find the key, were all just another master & hound.
Gathering fake glories,
Bouncing memories…
…facing the literal cause of bohemian rhapsody,
Leaning towards the boundaries of the ethic righteousness,
But forgetting the nature of the human ethic
It's too soon to be driven out: you said… all so true
Let us not be scientists of our own destiny….
It's not worth the hunt.
But never forget to let the hunger die...