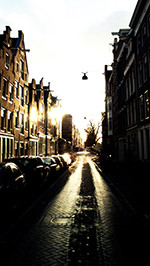 City Dive
In a dark winter night I stood in front of the window
Watching the city rise…
Cleaned up and put on a coat.
The chilly morning glow was firing up my shell.
Make way thru the deserted streets to a life of its own,
Sin rules the cold place, our so they want to be known.
The city that embraces the sinful and spreads the flavors,
Like everything shines and sorrow gets abolished.
Like destiny is forgotten and dreams come true…
Like a Forgetless feeling fills the drained soul,
And takes everything and just lets the circus fly high,
So I smelled the endless freedom and became one…
Taking me down to the vanity of your spirit…
And still those old streets carry me to another space and time…
Treasures that only you can extract,
A virtue…our so I think…
In this leveled land I got to know…
In this leveled land I let you go…
The true blessing of your liberating soul.
Still shines on…